ARTICLE INTENDED FOR:
Faculty and staff users of Starfish
INTRODUCTION:
This article provides an overview of progress reporting in Starfish (including goals, options and suggestions for providing feedback, and expected outcomes) as well as a step-by-step guide to completing progress surveys in Starfish. The video tutorial on completing a progress survey demonstrates the same process detailed in the step-by-step instructions.
Goals of Progress Reporting
Early indicators and mid-semester progress reporting surveys are administered through Starfish at critical periods during the semester to help instructors alert each student's larger support network (including academic advisers, retention specialists, and others) to the student's progress in a course. In most instances, this is the only insight others have into your class.
Your feedback also matters to students. While students are learning course content, they are also learning how to manage their habits, behaviors, and learning strategies. Instructor feedback helps students know whether or not their strategies align with what the instructor expects for success in a course.
Options and Suggestions for Providing Feedback
Starfish progress reporting surveys present you with your course roster alongside select feedback options (tracking items called "flags" and "kudos") that are relevant at that point in the semester. During the fall and spring semesters, these progress reporting periods begin in Week 3 (Early Indicators) and Week 7 (Mid-Semester) for all full-semester undergraduate courses and remain open for 1.5 weeks.
The progress survey is one of three Starfish methods instructors can use to to provide feedback about students and be in compliance with Faculty Senate policy. All of the possible alerts and their associated messages are on the Starfish Info website.
If similar concerns are registered by multiple instructors, this could signal larger problems about a student's academic performance or even, in extreme cases, that a student is missing or in crisis.
Early Indicators Reporting Period (Weeks 3–4)
The early indicators progress report helps students make adjustments early enough in the semester to be successful. Feedback does not necessarily report on graded work. Rather, it can be based on indicators that a student might or might not be appropriately engaged in the course.
Even if you teach a large course or have no grades to report yet, you still have access to vital student information that should be shared via Starfish.
Some early data points to look for include:
Missing homework assignments, quizzes, or exams

Missing clicker submissions or other indicators of residential course participation

Missing discussion posts or other indicators of online course participation

Absences from lecture, recitation, or lab sections

No or little student activity on Canvas (find this at a glance by checking analytics for your whole class or by running an activity report for an individual student)
Mid-Semester Reporting Period (Weeks 7–8)
The mid-semester progress report helps students realistically assess their progress in a course. Some significant graded work should be included in this assessment of student progress. Feedback should be provided to students in time for them to gather additional information before making decisions about their continued enrollment in the course.
What to Expect After Completing a Progress Survey
Each flag and kudo raised in a progress survey automatically generates an email message to the student and their assigned adviser, including the standard template language and any additional comments you choose to provide with your feedback.
Students who receive warning flags are expected to take action on that warning. They may reach out to an instructor, TA, or academic adviser to seek additional information or to craft an action plan. If you choose, you can provide additional information about what actions would be most appropriate for the student by adding comments to your feedback in the progress survey.
Once a student reaches out to an academic adviser, instructor, or TA, the flag should be cleared by whomever interacts with the student. If the flag is cleared by someone other than the flag raiser, the person clearing the flag may choose to send the raiser comments explaining why the flag was cleared.
NOTE: Clearing a flag does not mean that the underlying issue has been resolved but rather that the flag has either (a) done its job of drawing the student's attention to the issue or (b) gone unacknowledged by the student after reasonable outreach attempts by a member of the student's Starfish Success Network.
STEP-BY-STEP INSTRUCTIONS:
Available feedback options differ between progress reporting periods, and the options presented in the screenshots below may not reflect the exact tracking items you will see when opening the current progress report. If you would like to plan ahead for upcoming progress reporting periods, you are able to view all current alerts and their associated messages on the Starfish Info website. If the tracking items for a particular progress survey do not meet your needs, another method of providing feedback in Starfish may be a better choice.
Go to your Starfish homepage (Go to starfish.psu.edu, and click the "Log in to Starfish" button to get to your Starfish homepage).
Select the Outstanding Progress Survey link on your Starfish homepage to go directly to the Progress Surveys tab in the Students section.

NOTE:

This message and the Progress Surveys tab are only visible when there are active surveys, typically during weeks 3– 4 and 7–8 of the fall and spring semesters.
Opening a progress report survey will provide the following:


Course roster listed alphabetically
Options for feedback available as checkboxes

Select the progress survey you would like to work on from the "Choose Survey" dropdown menu.
Select the checkbox associated with the student and the feedback you would like to deliver.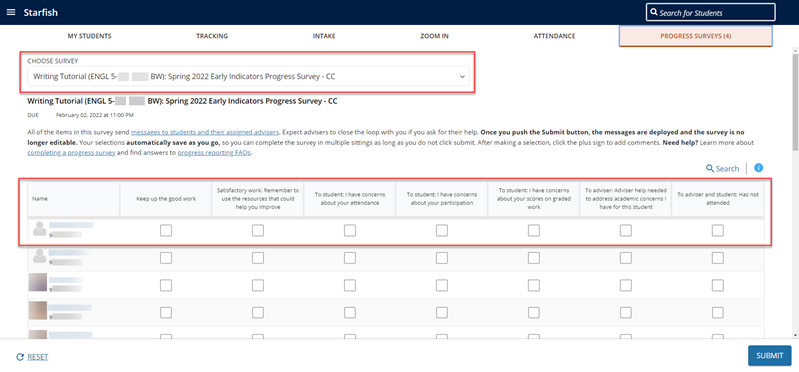 To add comments, click the plus (+) icon that is displayed after you check a box.

The comments you add will be included in messages sent to the student and others in the student's support network and are extremely helpful, especially if adviser help is desired.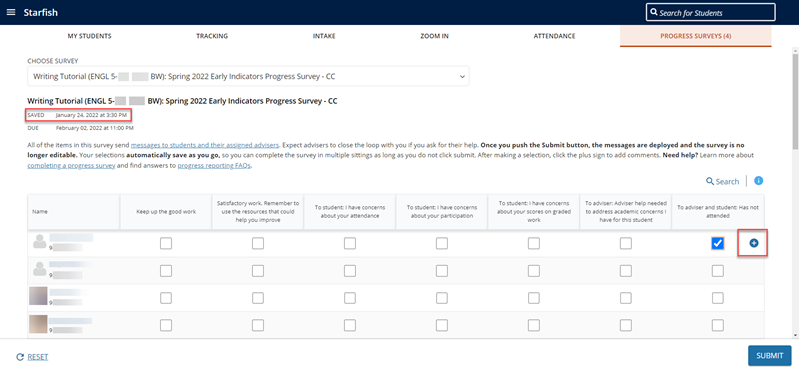 Your entries are automatically saved, so you may stop and return to the survey later. The last time the survey was saved will be noted under the survey name. Note: If you return to the survey after some time away, you may want to open Starfish in a new window first to ensure that your session has not timed out due to inactivity. You will not be able to submit the survey if you have been logged out, and if you continue to fill out the progress survey, new responses will not be saved. Do not close the previous session. Opening Starfish in a new window gives you the opportunity to check that all of your work from the previous session has been recorded and manually copy any unsaved responses and/or comments before continuing.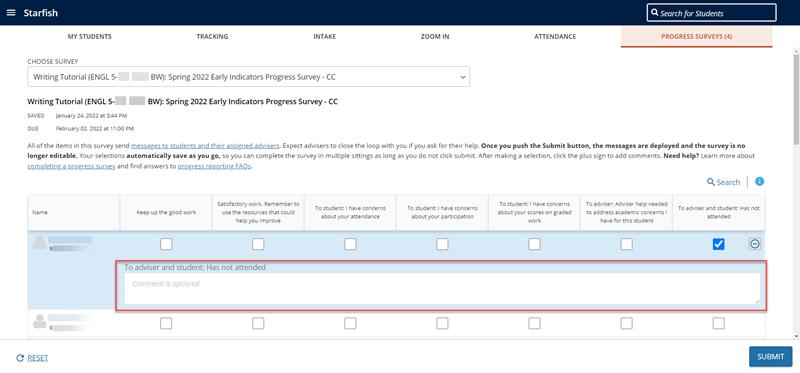 When you are completely done with the survey, click Submit. Once you click Submit, you will no longer be able to view or edit the survey, and this cannot be undone. Starfish will prompt you to confirm.


NOTE: If the progress survey was submitted prematurely, your only options are to raise flags or kudos manually or to use the Zoom In feature in Starfish if Canvas Grades are set up. The progress survey cannot be reopened.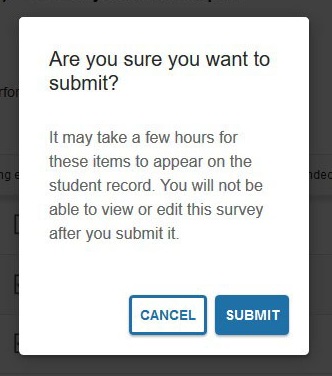 After you click Submit, Starfish starts generating emails to students and their assigned advisers and creating tracking items in each student's Starfish folder. This can take some time to completely process.

If you use a different Starfish option to provide feedback to students, you can submit the survey without selecting any of the checkboxes. This will stop reminder emails from being sent to you.
LINKS:
Video Tutorial: Completing a Progress Survey (3 minutes)
Other Resources: